"In a world where everyone has a mobile phone, a personalised ringtone can say a lot about you and the connections that make you who you are…"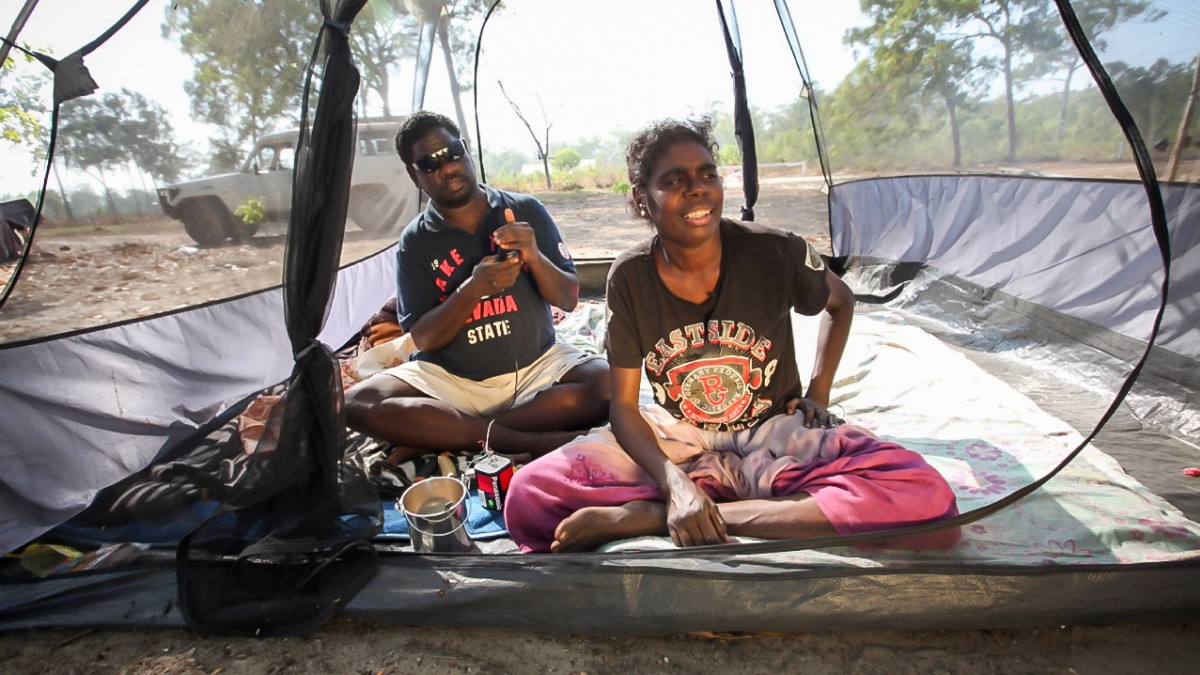 Through this film we welcome you to the once-remote Aboriginal community of Gapuwiyak in northeast Arnhem Land in the Northern Territory, where individual ringtones reveal rich insights into the lives of our people.
From ancestral clan songs, animal calls and birdsongs to hip hop artists and gospel tunes, a Yolŋu ringtone always comes with a great story. It might be the music a young woman dances to in a city nightclub, or a clan song invoking memories of ancestors and country.
In Ringtone, we talk to you about the advantages and perils of our new connectivity and create a portrait about the surprising role of mobile phones in a contemporary Australian Indigenous community.


Miyarrka Media Directors:
Paul Gurrumuruwuy and Jennifer Deger
Miyarrka Media Producers:
Jennifer Deger, Warren Balpatji, Enid Gurunulmiwuy
Awards
| | |
| --- | --- |
| 2017 | Special Recognition Award FESTEF – Festival of television, Kučevo, Serbia |
| 2015 | Best Short Film Award, Society for Visual Anthropology Film Festival |
| 2015 | Commendation, Material Culture category Royal Anthropological Institute Film Festival |
Selected Screenings
| | |
| --- | --- |
| 2017 | Taiwan International Ethnographic Film Festival |
| 2017 | Group Therapy Exhibition, UNSW Art Galleries |
| 2017 | FESTEF, Festival of Ethnological TV Films, Kuchevo |
| 2016 | RMIT, Digital Ethnography Research Centre |
| 2015 | Australian Anthropological Association Conference, Melbourne |
| 2015 | Society for Visual Anthropology Film Festival, Denver. |
| 2015 | SIEF Congress, Zagreb Croatia |
| 2015 | The Royal Anthropological Institute Film Festival, Bristol. |
| 2014 | Virginia Film Festival, Charlottesville, Virginia |
| 2014 | The Smithsonian Museum of Natural History, Washington DC |
| 2014 | Culture Labs, Margaret Mead Film Festival, New York |
Reviews:
A compelling short film … (this) video has a light feeling, although its quickness and brevity belie the serious work it accomplishes. … We learn not only that ringtones extend cultural practices, but also that new practices take shape through mundane ways and that Yolŋu elders often look to younger generations for guidance. In these exchanges, we grasp the respect, love, and admiration that older people have for their younger kin. … Deger and Gurrumuruwuy's film offers a striking and disarmingly charming opening onto these phenomena.
_Daniel Fisher, University of California, Berkeley, Visual Anthropology Review
A captivating short film about the poetics and challenges of contemporary Yolŋu engagements with mobile phone technology. In humorous and deeply moving narratives, sixteen protagonists directly address the audience as they explain their choice of ringtone. The film offers glimpses into the diverse social worlds and relationships signalled by these choices, ranging from gospel songs in Yolŋu matha (language) to US West Coast rap, to ancestral clan songs. … Ringtone is remarkably effective in transporting viewers into the complex lives of its Yolŋu protagonists and their creative engagement with technological change in Gapuwiyak and beyond.
_Anna Weinreich, New York University, Oceania
"[T]he way Ringtone is composed—as a series of fixed wide shots focused on a seated person in the centre of the frame talking to the camera—is embedded in Yolgnu ways of being and thinking."
_Jane Sloan, mETAphor